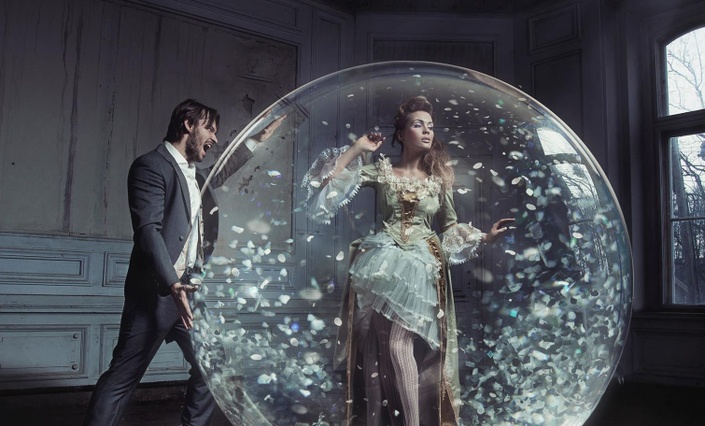 Girlfriend's Guide to Doing No Contact with an Emotionally Abusive Person
Defend your right to feel safe and confident as you heal and recover from emotional injuries
When you execute and defend No Contact, you are making a conscious & proactive decision to remove yourself from danger.
Doing NO CONTACT means you don't call, text, message, think about, or "run into" an ex (or whoever the emotionally abusive person might be). This also includes not talking to the ex's family, their friends, and your mutual friends about them or the breakup. The purpose is to give you a clean space to heal and recover.
In life, you get what you tolerate.~ Mike Ditka

Truth. And when you're feeling lonely, abandoned, discarded, and vulnerable, you're more susceptible to tolerating shoddy behavior in an effort to pacify the emptiness and pain.
This is why enforcing NO CONTACT is necessary to keep you protected while you heal and completely recover from emotional injuries.
You're fighting an invisible demon that makes you appear crazy. Support from friends during my recovery slowly fizzled out...

Understandably so. Those who embraced me with kind words and support when the breakup first happened eventually grew frustrated and grew silent.
Stop thinking about him! You're giving him so much power!
How can you miss someone who treated you so badly? It must not have been as bad as you said it was then.
Move on already! He's not worth all the brain-space you're giving him.
Wow... someone's not handling their breakup too well.
I kept my separation quiet and turned only to family for support. I suggest you do the same.
How are you going to find someone better if you don't let go of the drama?
Nobody could possibly understand what I was fighting against. How could they? Even I didn't know! There was trauma bonding and severe cognitive dissonance that continued to violently disrupt my recovery. I couldn't let go and move on... and at a total loss.

Eventually, I had no one left to turn to...
With my repetitive questions, speculations, and desperate cries for help to calm my aching heart... people were beginning to suspect that I WANTED to sit in this pain and misery. I don't blame them... if I didn't know this was absolutely NOTHING like a "normal" falling out or breakup, I'm sure I would've felt just as frustrated.
So I retreated to what I do best. RESEARCH - EXPERIMENT - IMPROVE.
I combined what I learned from my research on intermittent reinforcement, trauma bonding and cognitive dissonance
and interviews with psychologists and mental health professionals who specialize in Complex-PTSD and emotional abuse
with my background in psychology and mental/behavioral health studies.
Then applied ALL the knowledge, tools, and recovery methods to the support I desperately needed at each phase of my recovery.
When a strategy successfully eliminated a particular pain-point, I adjusted it to make it even more effective. If it didn't quite work, I kept adjusting and re-creating until it did
I was sick and tired of feeling trapped and suffocated in misery. The loneliness, pain, and confusion were beyond ridiculous. I could no longer afford to keep functioning at such a dangerously low level... which was also beginning to affect my son and my livelihood. So I did EVERYTHING I could to emotionally and mentally protect myself so I could finally begin healing. I did... and I broke free.

Members of this mini-course will receive...

ALL the knowledge, tools, and resources I used against every negative thought and belief that sliced my heart and slapped my face... that would've otherwise pushed me to break NC including:
Easy to digest explanation about the psychology behind No Contact
Real-world case studies of successful No Contact implementation
30-Day breaking free calendar to help enforce NC even when you think you can't
NC tools and resources including podcasts, recommended books, and security apps
SOS tools to help prevent you from making mentally/emotionally unhealthy choices, as well as get you through the loneliest phases of going NC
Mindset tools to help you CHOOSE YOU over crawling back to unhealthy relationships and connections - because you deserve to be truly loved, appreciated, and accepted.
And MORE. New strategies and resources are added every month.
"12 months NC. The SOS sanity cards and chats are what got me through. Thank you, Carmen!"

Fiona, New Zealand

Knowledge, Tools, and Support to Defend Your Space

| | | |
| --- | --- | --- |
| Empower with knowledge | Breaking free plan & calendars | Security apps, books, & resources |
| Voice of reason | Think through choices | When nobody else gets you |
Course Curriculum
Welcome to Your Safe Space
Available in days
days after you enroll
NO CONTACT 101
Available in days
days after you enroll
No Contact Action Plan
Available in days
days after you enroll
Your Instructor
Carmen is a Mom, Certified Cognitive Behavioral Life Coach, Mental/Emotional Wellness Specialist, Amazon Best Selling Author, and Advocate for Victims of Narcissistic Abuse.
Her mission is to help overfunctioning and codependent women undo destructive thought & behavior patterns, so they have the confidence to defend their boundaries, find their voice, and live in alignment with their authentic selves.
Carmen's personal experiences in overcoming narcissistic abuse and codependency are what fuels her passion for this work.
"Thank you for giving me the strength to choose my well-being over someone who brushed me off as trash. 2 Years NC and healing!"

Marisol, Jacksonvlle, FL
Frequently Asked Questions
When does the course start and finish?
The course starts when you do and is on-going! It is a completely self-paced online course. Plus, new tips, tools, resources, and case-studies are added every month.
How long do I have access to the course?
After enrolling, you have unlimited access to this course for as long as you remain a member - across any and all devices you own.
What if I find the course is not for me?
If you are not satisfied with your membership, simply cancel before the end of your 30-day free trial and you will not be charged.
Can't I just find NC information for free online?
Honestly? You can find just about anything online now, but does that mean it's actually valuable? Not necessarily. Reading about doing NC is one thing... actually implementing and defending it consistently is something completely different. Not to mention the advantages of having someone who totally understands what you're fighting against, in your corner 100%.
I can personally vouch for doing No Contact. It's saved my sanity and life as I worked hard to properly heal from narcissistic abuse. The strategies and tools I've included in this course are the culmination of my personal and academic experiences, as well as real-life case studies of survivors of psychological abuse that I've worked with. You'd be hard-pressed to find any free articles with as much value, care, and expertise as this course offers.
Why is this a monthly membership?
New and updated guides, resources, case studies, and SOS audios/videos are added every month. The small monthly fee of $7 helps cover the cost of maintaining service on this platform which hosts all worksheets, audio, and video files. When you no longer need the provided support, simply cancel and the recurring charges will stop immediately. Fair enough?
You also have the option to purchase this mini-course for a one-time purchase. It took me a little over 2 years to completely heal and recover from the narcissistic relationship. With this option, you get LIFETIME access to the entire NC mini-course - including all new and updated strategies, tools, and resources added every month, for the cost of a 10-month membership. test
This course is not open for enrollment.